This post has been updated for the first round of 2017 Group Buys. This buy will last 3 weeks, ending on February 10th and I expect to start shipping boards out the week of March 13th. All orders for the group buy must be placed and paid for by midnight on 2/12. The cost will be the same as the last group buy, and I'll be using Google Forms with PayPal invoicing again for order placements. Details are all below!
The ESPixelStick is an E1.31 WiFi pixel controller built around the ESP8266 in an Arduino environment. An overview of the ESPixelStick V1 is available here, and I'll expand on the V2 changes in just a bit. The ESPixelStick supports up to four universes of WS2811 pixels on a single output, or up to 63 GECE Pixels. The firmware is open source, available here. Once connected to your WiFi network, further configuration can be done via the embedded web server. The controller is small enough to fit inside 1″ thin wall PVC, allowing you to embed the controller next to your element eliminating issues of long pixel runs. The ESPixelStick V2 is provided in kit form, with all SMD components pre-soldered. Please feel free to address any questions or concerns in this thread, thank you!
V2 Updates
1) Power supply section is completely different. It has an on board buck converter for 5V-24V DC input that will run 100% duty cycle at 5V and the 3.3V LDO is a different part as well. No longer have to worry about voltage configuration.
2) Mounting hole sized for a #8 screw to easily mount in CG cases.
3) Fixed the issue with using 3.3v programmers.
4) Fixed a potential issue that could cause the ESP module to hang if a watchdog reset occurred or the module rebooted.
5) All passives are SMD now. Only components left to solder are headers and buttons.
ESPixelStick V2 Kit Board: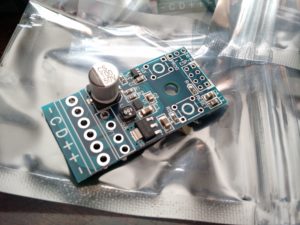 ESPixelStick V2 Assembled: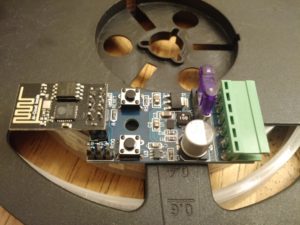 ESPixelStick Group Buy Costs
ESPixelStick Kit* – Includes all SMD pre-soldered and BOM (minus ESP-01) – $10 each
ESP-01 Module* (optional, but required to complete) – $3 each
Shipping** – All US shipping will done via USPS Priority Mail small flat rate boxes – $6.80
* PayPal fees are included in these costs
** each box can hold around 15 kits.
THT BOM – This is the BOM provided for you to assemble.
1 – Mini ATM Fuse Holder
1 – 3A Mini ATM Fuse
1 – 1×3 Header
1 – 2×4 Header
1 – HT3.96-6P plug and right angle socket
2 – Tactile Switch
How to Participate
I'm doing this a little different than most group buys. To ease logistics and keep orders / shipping straight, I've created a Google Form for participants to fill out. I will periodically review submissions, issue invoices via PayPal and update this thread with participants. Please allow a day for me to invoice you. If there are any questions or concerns, please feel free to post about them in this thread. If you have not received a PayPal invoice from me by 12PM EST on 8/15, CONTACT ME ASAP.
Order Form – ESPixelStick V2 Group Buy Form
Important Dates
The dates on this buy are pretty short to give people time for their Halloween shows as well. It's my plan to start shipping kits out by September 12th.
Expected Shipment – Week of March 13
Participant cut-off – 2/10
Payment cut-off – 2/12
More information and discussion threads
http://forkineye.com/ESPixelStick
ESPixelStick thread on diychristmas.org
ESPixelStick thread on doityourselfchristmas.com
One ESPixelStick driving a 720 pixel matrix (just over the advertised 4 universe capability):