DIY Zero Clearance Insert for a Ridgid R4512
Here's a quick and easy way how to make a Ridgid R4512 Zero Clearance Insert.  All you need is some 3/16″ hardboard, screws (or carpet tape), and a flush trim router bit.
How to do it
Trace out your OEM insert onto the hardboard then cut it out slightly larger, leaving it 1/8″ or so bigger.  Mark, drill, and countersink  the insert mounting holes.  Dig through your hardware drawer and find some nuts for the OEM insert screws and mate the pieces as seen below.  You can use carpet tape to mate the pieces as well if you can't find the nuts or choose to not screw your ZCI down.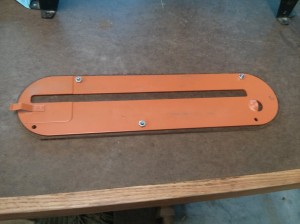 Using the OEM insert as a template, route the ZCI to size on your router table with a flush trim bit. I recommended drilling a hole similar to the original as well to help with removing the insert.  Mount the new insert blank to your table saw.  If you choose to go the "no-screw" route (not recommended), clamp a sacrificial board across the insert to hold it down.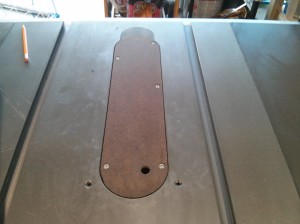 Turn on your saw and slowly raise your blade to full height.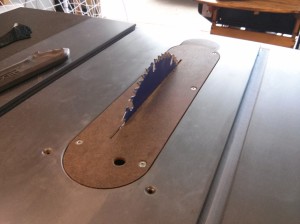 Now you can remove your new insert and elongate the slot towards the rear so that the splitter / riving knife can be used.
If all this seems to be too much of a hassle, you can always buy a Leecraft ZCI!